ALTAR - (SI. Prestol) The designation Altar is commonly used of the whole Sanctuary, so that we hear the expression "in the altar," meaning "in the Sanctuary." Only one altar is to be found in each church (unle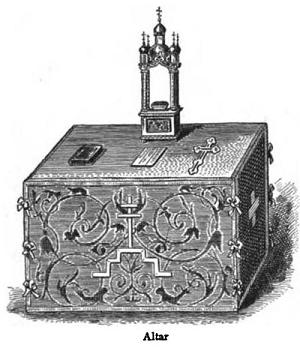 ss there is an attached or side-chapel) and only one Liturgy may be celebrated on any one day on it.
Altar Table A square table made of wood, or marble, in the center of the Sanctuary, away from the wall, upon which the Bloodless Sacrifice is brought during the service of Divine Liturgy. It must contain relics and be consecrated by a bishop. On the Altar there is a folded Antiminsion and on it the Book of the Holy Gospels is placed. There is also a Tabernacle containing the Reserved Gifts, a hand cross and two candlesticks. Nothing else is to be placed on the Altar Table.