Articles Section
This section of our website has articles about Orthodoxy and our church. These articles are also currently subdivided into three categories:

Orthodox Church, a collection of articles about the Orthodox Church. We hope the articles in this section will be helpful to both inquires of Orthodoxy, and to those who are members of the Church.
Worship, a collection of articles about services, prayers, and worship of the Orthodox Church.
Saints and Icons, a collection of articles about saints, their relics, or their icons. We hope to include articles, of special interest to our parish, on the saints who are depicted on our icons, or whose holy relics rest here. Articles on our feast day icons will be included here also.

Also see our Salvation History Section and our list of Videos.
---
Interview with Fr. Daniel Hubiak
These Interviews with Fr. Daniel and Dunia Hubiak, conducted by Fr. John and Denise Jillions, took place on June 20, 2014. They were recorded by Steve Dixon utilizing the equipment and facilities of the Dorrance H. Hamilton Public Media Commons at WHYY, in Philadelphia, PA.
They are part of the series, "Gift and Grace: Stories of Orthodox Clergy and their Wives," sponsored by the Diocese of New York and New Jersey (Orthodox Church in America). In documenting the lives of senior Orthodox clergy the series, edited by Fr. John Shimchick, explores the sense of gift and the mystery of grace that uphold both marriage and ministry.
Joy of All Who Sorrow Icon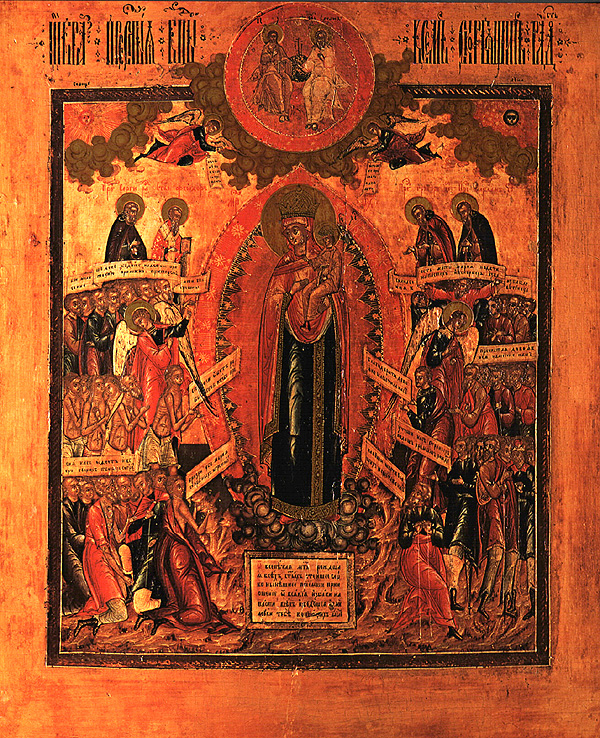 The wonderworking "Joy of All Who Sorrow" Icon of the Mother of God was glorified in the year 1688. Euphymia, the sister of Patriarch Joachim (1674-1690), lived at Moscow and suffered from an incurable illness for a long time. One morning during a time of prayer she heard a voice say, "Euphymia! Go to the temple of the Transfiguration of My Son; there you will find an icon called the "Joy of All Who Sorrow." Have the priest celebrate a Molieben with the blessing of water, and you will receive healing from sickness." Euphymia did as she was directed by the Most Holy Theotokos, and she was healed. This occurred on October 24, 1688.
Autocephaly problem: history and present
A lecture given by Very Rev. John H. Erickson (Saint Vladimir's Orthodox Theological Seminary, Professor emeritus) at the conference "The Forthcoming Council of the Orthodox Church: Understanding the Challenges" (18-20 October 2012, Paris).
Watch the video here.
2013 DIOCESAN ASSEMBLY: Bishop Michael's Address
This video features the "Address to the Diocese" by His Grace, Bishop MICHAEL, as delivered at the Annual Assembly of the Diocese of New York & New Jersey (Orthodox Church in America). Convened at Holy Trinity Orthodox Church in Yonkers NY on 12 November 2013, the Assembly was comprised of clergy and laity delegates representing the parishes of the diocese. Information and resources regarding the Diocese of New York & New Jersey are available on the website: nynjoca.org.
Saint Nicholas: 7 Questions and 7 Answers
"Lessons in Our Faith" is a series of instructional videos produced by the Diocese of New York and New Jersey (Orthodox Church in America) featuring His Grace, Bishop Michael. In this installment, the topic is SAINT NICHOLAS. Using his popular "7 Questions and 7 Answers" format, Bishop Michael discusses this subject in a concise and direct manner. In five minutes, the video offers the fundamental teaching about this wonderful and beloved saint within the life of the Church. (See all the Lessons in Our Faith talks posted on our diocesan website.)
Subcategories
Orthodox Church

Articles about the Orthodox Church

This section of our website, is a collection of articles about the Orthodox Church. We hope the articles in this section will be helpful to inquires of Orthodoxy, Catechumens, and to those who are members of the Church.

Good starting points would be:

---

Article Count:

93

Worship

Articles on services and prayers.

This section of our website has a collection a collection of articles about services, prayers, and worship of the Orthodox Church.

Good starting points would be:

---

Article Count:

82

Saints and Icons

Articles on Saints and Icons

This section of our website, is a collection of articles about saints, their relics, or their icons. We hope to include articles, of special interest to our parish, on the saints who are depicted on our icons, or whose holy relics rest here. Articles on our feast day icons will be included here also.

Besides enhancing the beauty of our church, icons remind and instruct us in matters pertaining to the Christian faith. They can lift us up to the prototypes which they symbolize, to a higher level of thought and feeling, to help transform us and sanctify us. Icons can stimulate us to imitate the virtues of the holy personages depicted on them. They serve as a means of worship and veneration.

Good starting points would be:

---

Article Count:

59